The Historic Preservation Office (HPO) works to protect and enhance historic neighborhoods, buildings, and sites in Phoenix. They identify and designate eligible properties and districts for listing on the Phoenix Historic Property Register. Protection is provided to designated properties through city review and approval of exterior alterations to buildings and demolition requests. There are 35 historic districts in Phoenix (see map) and below you will find a brief description of a just a few.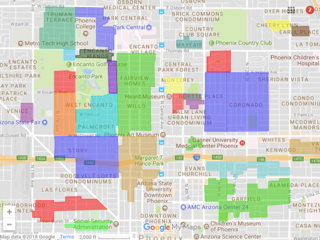 Garfield District is one of the up and coming neighborhoods located right around Seventh and Roosevelt streets. You can find bungalows and pyramid cottages and homes built from the late 1800s to 1955.
Next up is Coronado. This historic district has a mix of old and more modern designs also known for its artsy scene, located in Midtown Phoenix.
A popular one named Willow Historic District has many homes ranging from half a million dollars and up. Willo has charm and homes that are well-taken care of by the residents dating back as far as 30's and 40's.
Encanto Palmcroft Historic District contains homes with large lots and dating back to the 1920's.  With about 330 homes in Encanto you will see architectural variety.
With age comes beauty in many unique forms.  If you are interested in learning more about the historic districts in Phoenix and what they have to offer, please contact me at (602) 524-0359.